Solaire Grid-Tie Systems with Battery Backup offer Suntech modules and high-quality system components to provide reliable power. All major components needed for a successful installation are included with each system. In addition to solar modules and batteries, each system includes a pre-assembled, factory-tested Solaire Power Center with AC/DC disconnects and PV ground fault protection, a UniRac Solar Mount support structure, MC cables, and a lockable, indoor battery enclosure. The installer provides the common AC wiring.

For power needs beyond 1 KW, additional power systems can be installed for other critical loads. An optional digital +/- and net kWh meter is also available

All Solaire systems include complete documentation, an installation guide and owners manual. Suntech modules carry a 20-year warranty on power output. The Solaire Power Center carries a 1-year Weightronix/Solaire warranty and the HBL batteries have a 1-year warranty. The Sunny Boy inverters cum controllers carry a 2-year warranty. Sealed AGM batteries can be provided as optional. Maintenance-free batteries are designed to last 2+ years in float condition.

Solaire Grid-Tie Systems With Battery Backup Include :
Suntech STP180S Solar Modules
A Simple Module Mounting Rail System /flush-mounted roof support structure
Solaire Power Center using the Weightronix Solar E-Panel with 1 Sunny Boy Inverter cum MPPT Charger IP 65 Protected
HBL's VRLA Tubular Sealed Batteries for 3 Hour Backup
Solar Indoor Battery Enclosure
Complete Documentation including drawings and owner's manual
Chart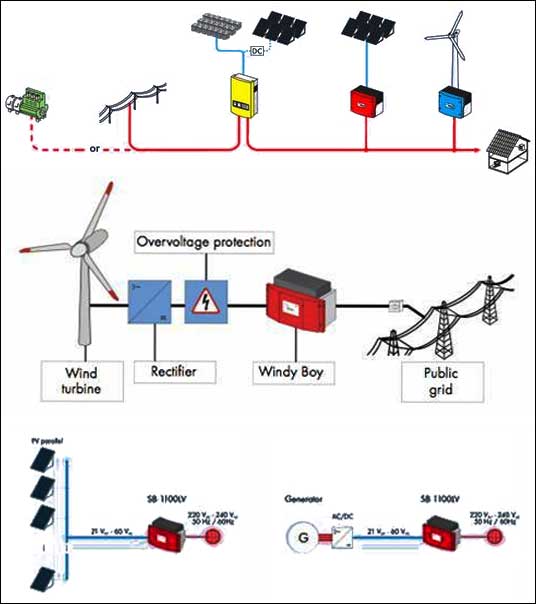 To enquire about the desired product(s), just check the box and then click "Enquiry Now" button which is provided below.